2018 Tech Sector DC Fly-In
Monday, February 12, 2018 5:30 PM - Wednesday, February 14, 2018 5:00 PM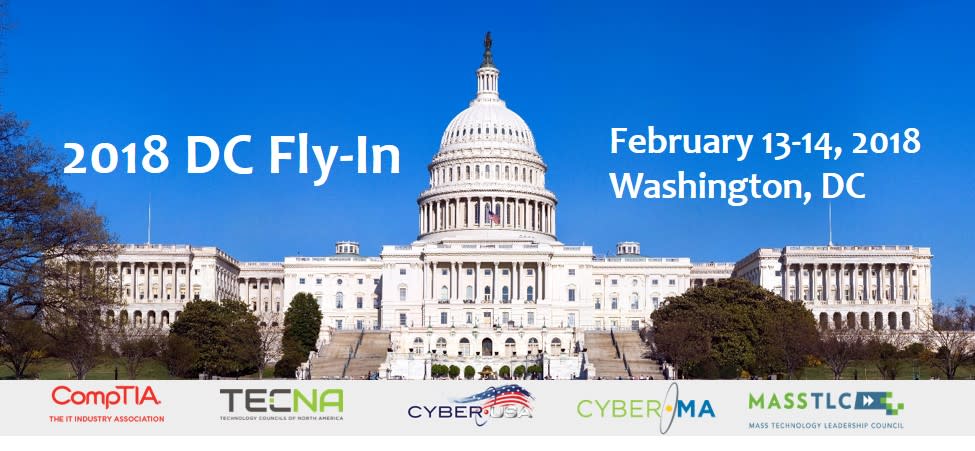 Each year, business leaders from tech companies nationwide travel to Capitol Hill to further relationships with lawmakers and advocate for tech-friendly public policies that will create jobs and reinvigorate the economy. MassTLC is once again partnering with CompTIA, the Tech Councils of North America (TECNA), CyberUSA, and CyberMA to provide an opportunity for MassTLC tech executives to participate in the 2018 DC Fly-In, Tues-Wed, Feb 13-14, 2018, in Washington, DC, with our peers from across the country. As part of the Fly-In, we will be visiting our Massachusetts Congressional Delegation offices.
AGENDA
The MassTLC DC Fly-In is a coordinated six-part series of events organized by MassTLC and our national/regional partners. The following preliminary agenda is subject to change but gives a good picture of what we are planning.
Part I - Monday, Feb 12, 5:30-7:00pm – Tech Council Members Reception
(organized by TECNA)
MassTLC and our peer Councils have come together as the Tech Councils of North America (TECNA) to host a networking reception on Monday evening for our member executives who arrive in Washington the night before the Fly-In. It is an opportunity for member executives to network with their peers from across the nation. The TECNA reception includes hosted beer, wine and light hors d'oeuvres.There is a $45 fee to attend AND separate registration is required.
Part II - Tuesday, Feb 13, 10:00-12:00pm – CyberMA/CyberUSA Policy Briefing
(organized by MassTLC/CyberMA/CyberUSA and other regional cyber groups)
MassTLC leads the CyberMA, the Massachusetts affiliate to CyberUSA, a national network of regional cyber organizations focused on enabling innovation, education, workforce development, and enhanced cyber readiness and resilience. This briefing will include national cyber policy leadership representatives from the White House, Vice President's cybersecurity team, Legislative committees, and/or regularity/agency leaders. Additional details will be provided as speakers are confirmed.
Part III - Tuesday, Feb 13, 12:00-5:15pm - Tech Policy Summit
(organized by CompTIA)
With one year of the Trump Presidency under our belt and mid-term elections this fall, we take a moment to examine the agendas of the House, Senate, and Administration as it applies to technology. We will also look at talent related issues such as high-skilled immigration reform, improvements to STEM education curriculums, greater and wiser investment in job training programs, and key tech trends relating to spectrum, 5G, IoT and the blockchain. Check back for latest updates to the Summit Agenda.
Part IV – Tuesday, Feb 13, 5:15-8:00pm – Champion Award Dinner
(organized by CompTIA)
The awards dinner honors individuals for their leadership in championing policies that advance the county's technology sector. Past recipients have included U.S. Senator Cory Booker (D-NJ), Senator Orrin Hatch (R-UT), Senator Ron Wyden (D-OR), Representative Will Hurd (R-TX), Representative Anna Eshoo (D-CA), Representative Cathy McMorris Rodgers (R-WA.), and various tech sector leaders. The event is regularly attended by about 150 technology executives and business owners from 30+ states across the US.
Part V – Wednesday, Feb 14, 7:45-12:00pm – Capitol Hill Speakers Series
(organized by CompTIA)
Capitol Hill Speaker Series generally includes relevant Commissioners (ie, FCC, FTC), key Congressional and Senate Committee Chairs, and senior officials from the White House Office of Science & Technology Policy (OSTP). Past speakers have included: Maureen Ohlhausen, FTC Chairman (Acting), House Judiciary Committee Chairman Bob Goodlatte (R-VA); Commissioner Julie Brill, Federal Trade Commission; Commissioner Ajit Pai, Federal Communications Commission; Rep. Derek Kilmer (D-WA); Rep. Ted Lieu (D-CA); Rep. Marsha Blackburn (R-TN); Rep. Zoe Lofgren (D-CA).
Part VI – Wednesday, Feb 15, 12:00-6:00pm – Massachusetts Congressional Office Visits
(organized by MassTLC)
The final component will be MassTLC pre-arranged Congressional office visits (see 2017 Highlights). In our meetings we will pursue a coordinated advocacy strategy with our peers from around the nation focusing on important tech issues that have potential to move in 2018. We will work with our delegation to brief lawmakers on key collective issues impacting Massachusetts tech companies. To the extent possible, we will also give executives an opportunity to raise additional relevant company-specific issues.
HOTEL INFO – For complete hotel information click here
The Liaison Capitol Hill, A Joie De Vivre Hotel, 415 New Jersey Avenue, NW, Washington, DC
Reservations – call toll free (888) 513-7445.
Special CompTIA Hotel Rates – $265 – Reference group name "CompTIA DC Fly-In" when making reservations. The room rate is subject to applicable state and local taxes. The negotiated rate is available until Monday, January 15, 2017, subject to availability.
COST TO ATTEND: All attendees are responsible for their own expenses. Attendees are responsible for their own travel and hotel accommodations.
RSVP - Space is extremely limited and preference will be given to Mass-based CXOs in certain priority sectors. Please email sara@masstlc.org if you are interested in attending.
Event Contact:
Sara Fraim
Contact Organization:
MassTLC