Walk the Tech Talk: A Workshop For Building Your Women's Group
Microsoft, 5 Wayside Ave, Burlington, MA
Tuesday, July 16, 2019 (8:30 AM - 12:30 PM) (EDT)
Join us at this half day action planning workshop that will help you create a business strategy for your women in technology program and get ready to implement your plan the next day. You see it, hear it and want to change the women in tech gap. Gender diversity is essential for success in tech organizations who are grasping for solutions to make this a business imperative.
This event is for Senior Directors, Managers or anyone involved in bridging the gap for women in tech inside their organization.
Why You Should Attend:
Write your own plan and make it a business imperative. Already have a program? Learn how to align it to your organization.
Hear case studies from high profile companies who are leading the charge.
Network with tech professionals who are leading this initiative in our tech ecosystem.
Learn how to negotiate your salary or why you should offer this service as part of your Employee Retention Group (ERG).
Sessions Include:
Inspirational Keynote
Presenter:
Donna Levin, Executive Director of Innovation and Entrepreneurship, Worcester Polytechnic Institute, Senior Lecturer at MIT and Co-Founder, Care.com
Session I: Workshop: The Business Imperative
Write your Employee Resource Group (ERG) business case and learn how to align it to your organization. You will be guided through your plan by writing down specific strategies that will meet defined goals.
Presenters:
Janel Ryan, Sr. Director, Product Marketing & Enablement, Netscout
Kim Meninger, Executive & Leadership Development Coach, Executive Career Success
Session II: Case Studies
Learn how to apply your plan by listening to case studies from top 5 technology leading companies. Hear from different organizations who will share their pain points and how they strengthened their internal women's organization. They will unfold strategies that have helped them succeed.
Presenters:
Lisa Hurd Walker, VP of Brand and Corporate Marketing, Fuze: Getting started, lessons from an early stage women's employee retention group.
Amie Levasseur, UX Director, Evergage: How mentorship and specialized programs made happy teams.
Jessica Green, HR Partner, Aetna: How their Women's group has made a difference in their employee hiring and retention.
Jessica T. Ackerman, Deloitte: How an established program continues to strengthen their women's network.
Lis Strenger, Senior Product Marketing Manager, Red Hat: How a grassroots women's initiative received corporate support by building a women's technical development network.
Network With Presenters
Take your plan to deeper depths by asking those who have overcome obstacles and succeeded in their Women's ERG.
Session III: Learn How to Negotiate Your Salary Workshop
The American Association of University Women (AAUW) has set a bold goal to train 10 million women in salary negotiation by 2022 in an effort to close the gender pay gap. Join AAUW to learn more about the impact of the gender pay gap and why employers should empower employees to negotiate. They will also introduce strategies for negotiation from their workshop, AAUW Work Smart so you can walk away with skills to help you be your own best advocates in the workplace.
Presenter:
Alexandra Howley, Program Manager, AAUW
Agenda
8 AM REGISTRATION OPEN
8:30 to 8:50 KEYNOTE
9 AM to 9:45 SESSION I
9:45 TO 10 AM BREAK
10 AM TO 11 AM SESSION II
11 AM TO 11:20 Q&A PANEL
11:30 TO 1145 BREAK & NETWORK WITH PRESENTERS
11:45 TO 12:30 SESSION 3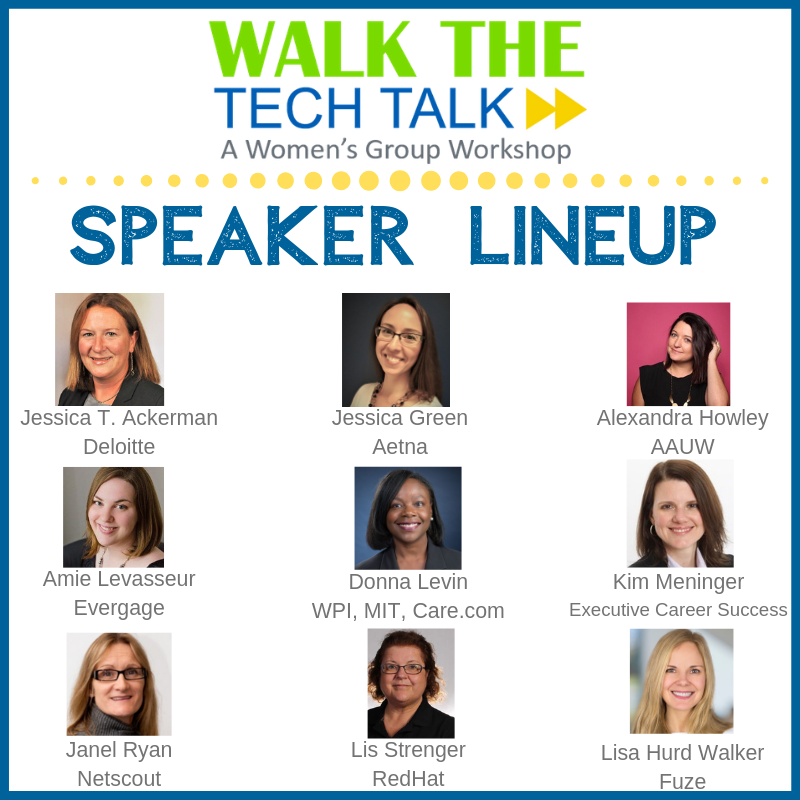 Thank you to our Community Sponsors
Event Contact:
Nayla Daly
Contact Organization:
MassTLC